Best Top 10 Elton John Songs Birth Date Name Age Height Net Worth
It is amazing as to how Elton John has continued over the years to inspire and amaze music fans throughout the world. He has sold more than 250 million records over the years, has done some work on hit musicals like Aida and Billy Elliott and is also a member of the Rock and Roll Hall of Fame. John has been working with lyricist Bernie Taupin for more than forty years now and continues to make new music with his most recent album being released in 2016. He is also among the roster of stars who play at the Colosseum at Caesars Palace in Las Vegas. John's piano-playing skills, intense vocals and Taupin's smart and introspective lyrics have helped make the Rocket Man on the world's top stars.
Elton John Career Information (Presenting Year, First & Latest Album, Net Worth )
Singer Name
Elton John
Presenting Years
1963–Till Now
Genres
•             Rock

•             piano rock

•             pop rock

•             glam rock

•             soft rock

Instrument
Vocal and Piano
Occupation
Musician, singer-songwriter composer
First Album Name
Lady Samantha/All Across the Havens
First Album Release Date
January 17, 1969
Latest Album Name
Wonderful Crazy Night
Latest Album Name Release Date
February 5, 2016
Net Worth
$450 million
Official Website
http://www.eltonjohn.com/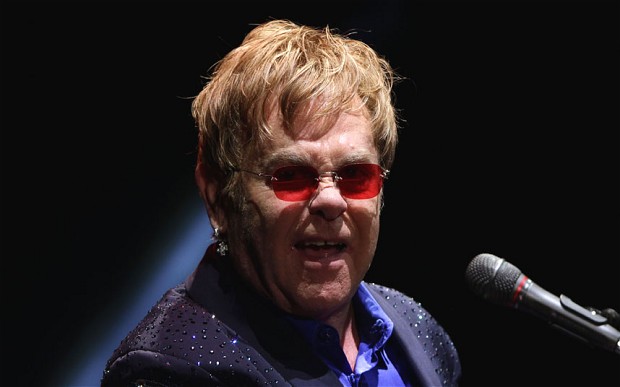 Elton John Personal Information (Real Name, DOB, Zodiac Sign, Hair / Eye Color, Height, Weight & Body Size)
| | | |
| --- | --- | --- |
| 1 | Real Name/ Birth Name | Reginald Kenneth Dwight |
| 2 | Famous Name/ Nick Name | Elton Hercules John |
| 3 | DOB | 25 March 1947 |
| 4 | Birth Place | Pinner, Middlesex, England, UK |
| 5 | Age | 69 |
| 6 | zodiac sign | Aries |
| 7 | Hair Color | Brown |
| 8 | Eye Color | Blue |
| 9 | Height | 1.72 m |
| 10 | Weight | 87 |
| 11 | Body Size | NA |
Best Top 10 Elton John Songs
One of Elton John's biggest hits, this song features an introspective piano sound with a steel guitar and strong string section backing him up to really create an emotional feel. This is a song about a great woman who is easily memorable and has stuck in the minds of people for years. It especially made a prominent appearance in the movie Almost Famous.
Inspired by a Ray Bradbury story, this ballad is about a man who travels out to space and misses his life back home. This song is certainly one that hits home to those who travel often and have been gone for a while. The keyboard effects especially create a space-like feeling that fits in with the song.
This great song is famous for its legendary call-and-response chorus. It's about the desire to stay young and the memories people have of growing up. The best part is that those great memories never go away.
Funeral For a Friend (Love Lies Bleeding)
At eleven minutes, this song is divided in two halves. The first is a section that features a great mix of John's electric piano and organ alongside Davey Johnstone's guitar to create an atmospheric feeling of loss. The entire song makes for a thrilling rock number.
This 1982 song is a tribute to John Lennon, a good friend of John and Taupin's who died a few years earlier. The song is about the heartbreak that comes from the loss of a good friend and brings back memories of good times.
The end of the 1970s was tough on John's professional career but in 1983 this song brought him back into the spotlight. Famous for its fun beat and outlandishly positive music video, I'm Still Standing shows that nothing can stop anyone no matter how bad things can get.
Saturday Night's Alright For Fighting
One of John's most covered songs, John pulls off his best Jerry Lee Lewis impression to create a hard rock sound heavily inspired by glam rock is all about having a good time. Nigel Olsson's uptempo drums especially keep this song running.
John's 1970 album Tumbleweed Connection was heavily inspired by country music and this song off of the album is a definite example of this. The soulful sounds of this song are especially conveyed by John's desire for a woman. The organ is prominently featured in this song to create a classic sound.
Don't Let the Sun Go Down On Me
One of his most legendary songs, this tune is a classic ballad with a strong orchestral section and some of the strongest vocals that John has ever performed. The song focuses on one's hope for the future and a need to keep on going even as things are going bad in life.
Bernie Taupin wrote the lyrics to this song after reading a magazine article about a Vietnam War veteran who wanted to avoid the attention that he had been getting when he came back home. The song has a sympathetic look at the pains and difficulties that people hold when they come back from war. John's Mellotron especially creates a flute effect that adds to the light feeling of the song to make it more memorable.
List of Best Top 10 Elton John Songs
| | | |
| --- | --- | --- |
| Songs | Album | Year of release |
| Tiny Dancer | Madman Across the Water | 1971 |
| Rocket Man | Honky Chateau | 1972 |
| Crocodile Rock | Don't Shoot Me I'm Only the Piano Player | 1973 |
| Funeral For a Friend (Love Lies Bleeding) | Goodbye Yellow Brick Road | 1973 |
| Empty Garden | Jump Up! | 1982 |
| I'm Still Standing | Too Low For Zero | 1983 |
| Saturday Night's Alright for Fighting | Goodbye Yellow Brick Road | 1973 |
| Amoreena | Tumbleweed Connection | 1970 |
| Don't Let the Sun Go Down on Me | Caribou | 1974 |
| Daniel | Don't Shoot Me I'm Only the Piano Player | 1973 |
Other Articles